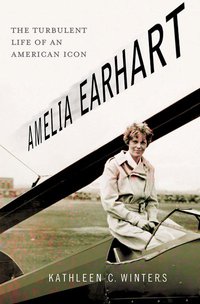 Praise for:
AMELIA EARHART: THE TURBULENT LIFE OF AN AMERICAN ICON
"A refreshing look at Earhart…with erudite analysis of everything from Earhart's flying to her marriage to her longtime financial support of her parents and her sister, Winters proves there is still much to learn about this American icon.."
–Booklist
"Earhart's accomplishments have been scrutinized for some time, and Winters's well-written and thoroughly researched study should serve as a final corrective."
— Library Journal

"Kathleen Winters's book is full of details I had never known about Amelia Earhart, which put her achievements and ultimate tragedy in a surprising new perspective. The author's experience as a pilot herself comes through in every part of the book. Anyone interested in flying or women who defy stereotypes will enjoy this book; but it also is a study in the timeless American traditions of marketing and PR."
–James Fallows, Atlantic Monthly, author of Free Flight
"Winters describes [Earhart's] gradual 'transformation from genteel woman to airfield hanger-on, cropping her long hair and wearing breeches, boots, and an oil-stained leather jacket.' She avoids romanticizing Earhart and … paints a fair picture of the famous woman aviator that so successfully captured the American imagination."
–Publishers Weekly
"…thorough but fast-paced book that makes Earhart come alive as a living, breathing person and not just a figure from the past."
–St. Paul Pioneer Press
"Winters' 'back story' of her subject's growth and achievements, problems, and ultimate failure focuses on the human development of an international celebrity who chose to fly beyond her capabilities, rather than conjecturing on Earhart's fate after the crash… Highly recommended."
— CHOICE, May 2011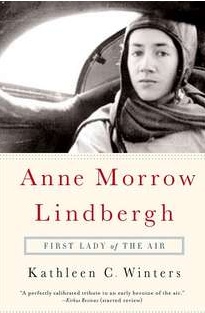 Praise for:
Anne Morrow Lindbergh: First Lady of the Air
"A perfectly calibrated tribute to an early heroine of the air."
—Kirkus Reviews (starred review)
"There's no denying the pioneering nature–or danger–of the Lindberghs' flights . . . readers interested in the early years of flight and the Lindberghs will find the book of interest."
–The Washington Times
"Beautifully written . . . Anne Morrow Lindbergh emerges as a more complete and relatable character than ever before, and an aviator long overdue for respect."
–Booklist
". . . both pointed and modest . . . Charles could have had almost any pilot in the world for his second seat, so his choice is a ringing endorsement . . ."
–The New York Times Book Review
**Voted Best Aviation Writing in 2008 by the Minnesota Aviation Hall of Fame**
"Winters vividly reminds us what a courageous pioneer Anne was."
–Richmond Times-Dispatch
"An admirable array of research. . . . Anne's important role in early aviation has not been treated as extensively elsewhere."
–Publishers Weekly
"Winters' thoughtful account . . . brings out the truth. With this book, she brings back to us the excitement and adventure of those early flying days, and honors a quiet, courageous woman who became an integral part of it all. I recommend this work wholeheartedly, and with gratitude."
–Reeve Lindbergh, daughter of Anne Morrow and Charles Lindbergh

"Kathleen Winters has rendered a service to aviation history by telling a story that, amazingly, has gone untold for decades."
–Barrett Tillman, author of Lemay: A Biography and Clash of the Carriers
"Only a handful of writers have captured the beauty of flight in writing, and Anne Morrow Lindbergh figures prominently among them. It is curious that until now, no one has examined the life in the air from which that writing drew. In a wonderful telling, long overdue and most welcome, Winters gives us a rich and vibrant portrait of Anne Morrow Lindbergh, pilot."
–David Toomey, author of Stormchasers and co-author of Amelia Earhart's Daughters

"Winters sets to restore Lindbergh to her rightful place in aviation history in this brilliantly researched and thorough biography."
—Plane and Pilot magazine
"Winters . . . recreates Lindbergh's early years with fresh perspective."
—AOPA PILOT magazine

"As you read "First Lady of the Air," it becomes obvious that Winters did her homework. Her list of notes and primary sources is extensive. . . . highly recommended read."
–EAA Sport Aviation
"Kathleen Winters skillfully weaves original material, never before published, to depict Anne Lindbergh's aviation career and life story. A moving tribute and a compelling read."
–Dr. Peggy Chabrian, President, Women in Aviation International
"Kathleen Winters brings Anne Morrow Lindbergh's life as a pilot into sharp focus. Her book is a welcome addition to the history of women in aviation."
–Martha Ackmann, author of The Mercury 13: The True Story of Thirteen Women and the Dream of Space Flight
"fascinating insights into her early flights with her husband. The description of her isolated world in the back cockpit of the Sirius on navigation and mapping flights is almost palpable…."
–99 News

"…a great read."
—Minnesota Flyer magazine
Reader Reviews
"It is wonderful to read a story that is able to inform about early pilot training, licensing, navigation, and airplane design with the additional benefit of Anne's own story, and her quiet and self-effacing contributions to her more visible husband's success."
–Lynda Meeks, regional airline pilot
"I have just finished reading your book ANNE MORROW LINDBERGH:FIRST LADY OF THE AIR. I found it very enjoyable and I must admit there were times when I did not want to put it down. There are many passages regarding the Lindberghs' association with Pan American World Airways with which I am very familiar because of my own research and close connection with that great company….
"Once again, I did really enjoy your book. Thank you very much for writing it for all to read."
–Lyle D. Wheeler, retired Boeing 747 Captain, Pan American World Airways (The original!)
"I am an old Certified Flight Instructor, and have written for Plane and Pilot, Air Progress, et al, so I know something about the process and the difficulty. But this book you have birthed, this is a magnum opus — so scholarly and yet so readable. You had us in the Sirius again and again, like Ernest K. Gann used to do. Well, almost as good as Gann (no one is that good, right).
"Anyway, congratulations to you! May it sell a million copies."
–Jim Walters
(The late Ernest Gann is known worldwide for his aviation books.)